Digital SIte Journal
CONSTRUCTION SITE DOCUMENTATION SIMPLY VIA APP
Every contractor or architect must document the progress on the construction site daily in the construction diary. Work carried out, personnel or subcontractors used, weather, machines and much more must be recorded. The digital site journal from geoCapture makes this work much easier. Personnel, machines and weather are automatically determined via GPS. You simply record the rest via App.
YOUR ADVANTAGES WITH THE DIGITAL SITE Journal
simple recording on site via app
automatic data transfer
project-related storage via GPS
photo documentation
digital archive
fulfills legal requirements
Site journal is mandatory!
Daily construction reports must be created daily in order to document the construction progress and special features on the construction site. The site journal is the basis of proof for success or failure, especially when it comes to issuing supplements or possible warranties. Unfortunately, the site journal is too often neglected or not kept at all because it is a nuisance for the employees. Handwritten notes are too often lost or illegible.
With the site journal form, you solve the problem and the construction site documentation is always tip-top. This is unique because geoCapture uses all the information from time recording and GPS positioning in the construction diary. The geoCapture team customises the construction diary to your needs.
Manpower AND MACHINES IN THE DIGITAL Site Journal
geoCapture determines the manpower used directly from the mobile time recording. Employees, operating times and break times on the construction site are determined automatically. This saves tedious entries, a lot of time and avoids errors.
The use of machines must also be recorded in the construction diary. GPS positioning in the construction machines helps here. The operating times of the machines are automatically determined via geofences and can be directly transferred to the construction diary. More convenience in an app is not possible.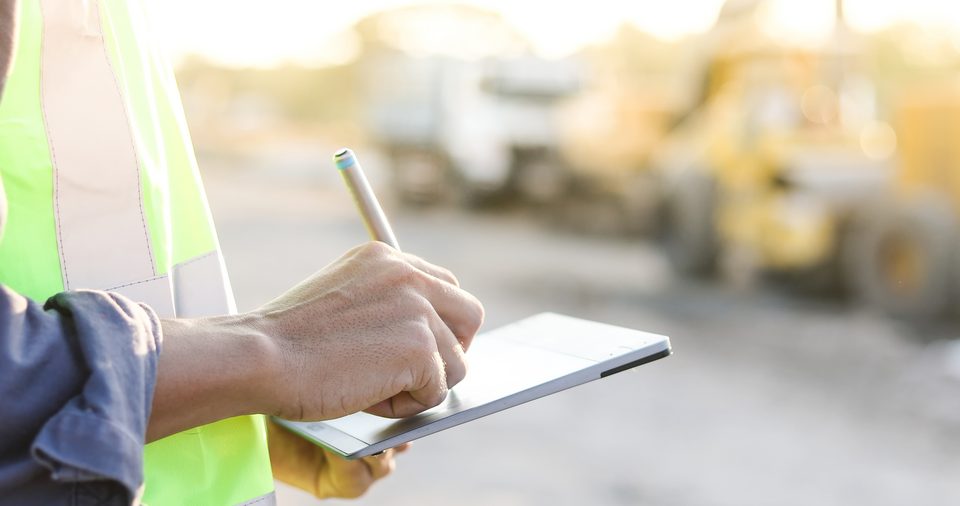 PHOTOS, SIGNATURES, SKETCHES, WEATHER
No matter where you are - you can conveniently complete all functions of the construction diary via app. Take photos, sign documents or create sketches. Weather data, personnel and machine usage are determined automatically by geoCapture. Everything works very simply via app. With just a few clicks, you have made your entries and your construction diary is ready for approval. geoCapture offers maximum ease of use with the app and enables simple, mobile working.

Completely flexible in structure
geoCapture compiles your personal construction diary according to your requirements. You determine the structure and specifications of the construction log yourself. You simply create your own form from a variety of building blocks. You get a construction diary that exceeds your expectations.