CONSTRUCTION MACHINERY LOCATION BY GEOCAPTURE
Construction machinery is exposed to the harshest weather and working conditions every day.
That's why you should use a tracker with IP67 protection for GPS tracking in this area. This is
protected against the weather and has an internal battery that continues to transmit even
when the power is disconnected, even if the power supply has been disconnected. The construction
equipment tracker can also be used for equipment that that do not have a permanent power supply.
Driver recognition
Digital time recording
many evaluation options
Powerful internal battery
Evidence to clients
Robust and weather-protected technology
Data transmission even without power supply
Serves for planning and controlling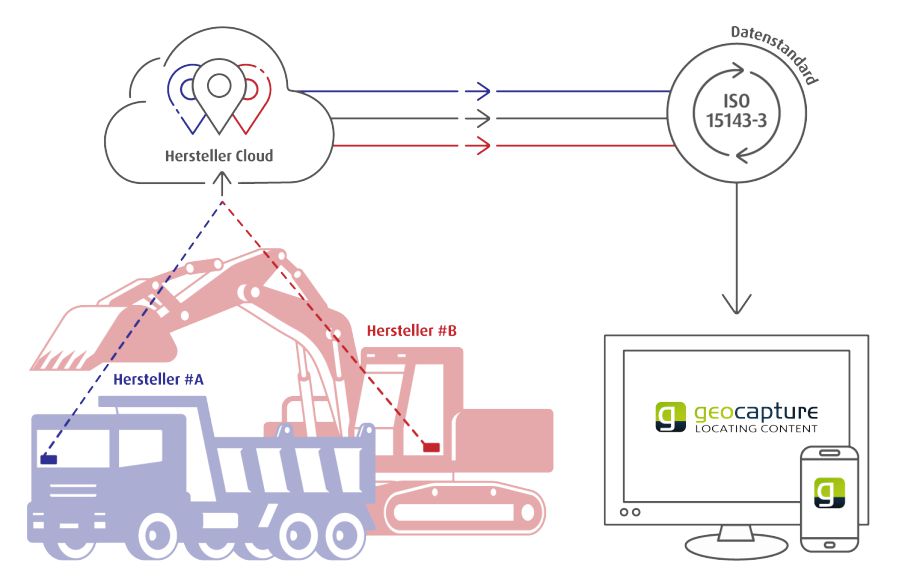 ISO 15143-3 - UNIVERSAL INTERFACE FOR CONSTRUCTION MACHINES
Many manufacturers of construction machinery equip their machines with GPS or telematics transmitters ex works. These devices are often able to transmit versatile data from the machine. Manufacturers also offer systems for preventive maintenance.
To avoid having to equip construction machines with additional GPS transmitters, manufacturers have agreed on the ISO 15143-3 interface. ISO 15143-3 provides a web service that allows geoCapture to directly access and import the manufacturers' tracking and telematics data.
Depending on the machine and manufacturer, the data transferred may vary. Ask your manufacturer what data is transferred.
Therefore, when purchasing your new construction machine, ask about this service and the costs so that you can use the manufacturer's data directly in geoCapture.