COMPREHENSIVE CONTROL OF YOUR CONTAINERS THANKS TO BLE-BEACONS
BLE beacons are small radio transmitters (Ø 3.5 - 5.5 cm) whose signals are received by GPS transmitters, gateways or smartphones and transmitted to geoCapture. The BLE beacons are water, dirt and shock
resistant and can therefore be attached to all kinds of objects. Further information about the BLE
beacons and the different manufacturers can be found here.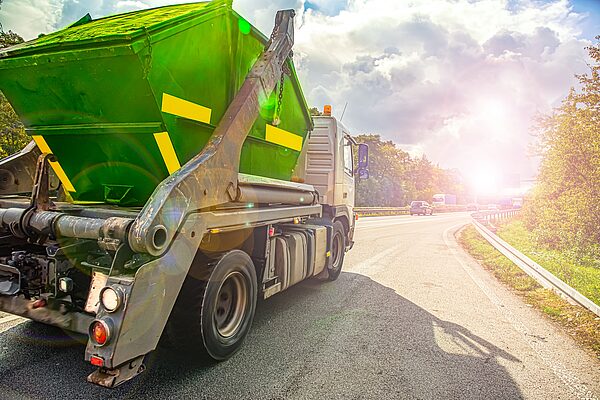 CONTAINER TRACKING
The durable and robust BLE beacons are perfect for use in locating containers for construction waste and rubbish.
All containers are equipped with beacons. The GPS transmitter in the truck receives the signal from the beacon and thus registers which container the truck is loaded with. When the container is dropped off, the last location is automatically saved. In this way, it is always known where the containers are and the standing times can also be easily retrieved. The following data is automatically logged:
Current container location
Current vehicle load
container standing times, transport routes, times
Vehicles used, drivers
YOUR ADVANTAGES WITH CONTAINER TRACKING with BEACONS
Anti-theft protection
Control of standing times
Cost-effective, robust technology
Long life time
Loading test
Precise locations thanks to GPS or What3Words
BEACON LOCATIONS BY GPS OR WHAT3WORDS
BLE beacon locations can be retrieved by GPS as well as by What3words location. Thanks to the innovative technology of What3words, locations of 3x3m can be determined based on 3 words.
This is especially handy for location information of containers or transport racks. When containers have to be found on large construction sites or in new construction areas, there is often no sufficient address.
The entire construction site logistics benefits from position information from What3words. Loading and unloading points can be specified with an accuracy of up to 3m.
ROUTE PLANNING IN THE CONTAINER SERVICE
The geoCapture route planning optimises the transports of your skip containers and the emptying orders of your transfer containers. The exact location of the skip containers is stored via robust BLE beacons. The driver receives the exact position via the navigation app. The What3Words coordinates help with this.
Emptying orders for transfer containers are put in the best order with route planning. Half-full and overfull trucks are a thing of the past. The containers can be navigated directly via the navigation app.