TOUR PLANNING IN FACTORY TRAFFIC
OPTIMAL UTILISATION OF THE ROUTES
Optimum tour planning in factory transport presents many companies with a complex task. Expensive detours must be avoided, the delivery must arrive at the customer's on time and driving times must be adhered to.
With geoCapture's tour planning you save time and kilometres thanks to optimal routes. Exact driving times and realistic operating times ensure that you deliver the goods to the customer on time. Thanks to optimal tour planning, you can also react to short-term assignments. This ensures higher quality and increases your customers' satisfaction.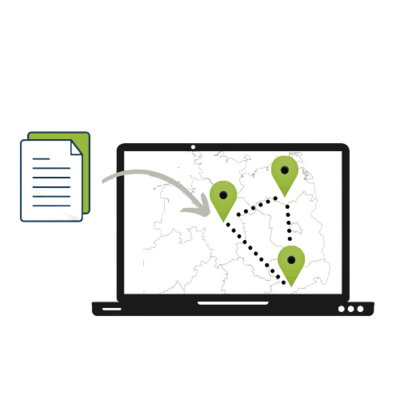 IDEAL PLANNING OF YOUR DELIVERIES
Your orders/delivery notes are automatically transferred from your ERP system to geoCapture. The orders are then automatically assigned to a delivery area and can thus be easily combined into a tour. The geoCapture tour planning puts your unloading points in optimal order. Thanks to truck route optimisation, you get realistic planning times and distances. Misrouted trucks are a thing of the past. Optimal tour sizes ideally utilise the capacities of your vehicle fleet and create optimal driving times. In this way, you use your fleet efficiently and avoid driving time overruns.
Your route is available directly in the truck via Navi-App. This saves you the hassle of entering addresses. Precise cost information on tolls, driving time, breaks, overnight stays and waiting times create an exact cost calculation for the tour.
EXACT TIMES = SATISFIED CUSTOMERS
Increase your customer service and tell your customer the exact time of delivery. Exact driving times and realistic loading times ensure a smooth daily routine. This way your deliveries are always punctual. If delays occur during the tour, they are immediately detected thanks to constant monitoring by means of GPS transmitters in the vehicle. This enables the dispatcher to take immediate action.
Your own B2C or B2B applications can be connected via APIs. Inform your customers directly about the current arrival time. This increases your customer satisfaction.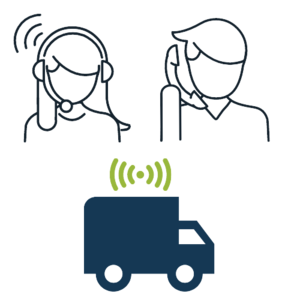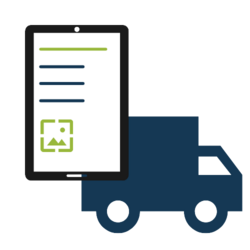 DIGITAL INSTEAD OF PAPER
With geoCapture tour planning, all important order documents for your deliveries can be accessed directly in the vehicle. Delivery notes can be signed digitally via tablet or smartphone. All documents are immediately available in the head office. This saves tedious paperwork and ensures an efficient workflow.