Record Working Times Digitally
Time tracking in the cloud
With geoCapture's mobile GPS time tracking, the recording of working hours becomes a self-runner: Often, companies with mobile employees or on construction sites record working hours via timesheets. This is time-consuming and inaccurate. With geoCapture, your time recording becomes digital and thus easier, faster and more accurate.
No more timesheets
Handwritten timesheets are laborious, inaccurate and no longer up-to-date. With geoCapture's digital time tracking, you get real-time working times for your construction sites and projects in real time.
You can use the absence calendar to book vacation, sickness and bad weather and always keep an overview.
The system automatically calculates expenses and bonuses for you. All data is automatically transferred to payroll accounting. This saves an enormous amount of time in monthly payroll accounting.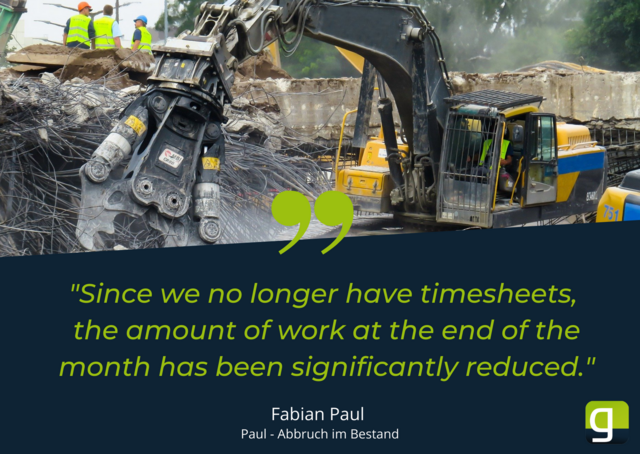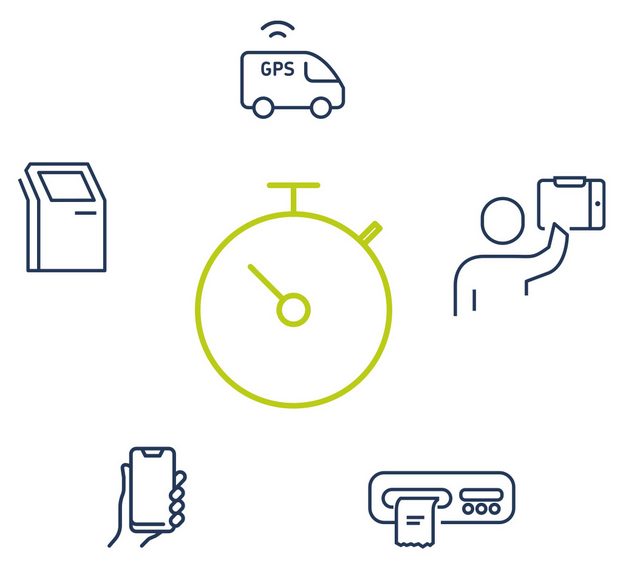 Time Tracking for every operation
Depending on the place of use and requirements, you can choose between different methods of time recording.
| | | |
| --- | --- | --- |
| device type | identification | application |
| wall terminal | RFID chip | office, workshop |
| wall-mounted tablet | RFID chip/PIN | office, workshop |
| GPS transmitter in car | RFID chip | construction site, assembly, service |
| tablet, smartphone, PC | terminal/PIN | office, construction site, assembly, service, home office |
| truck | driver card | truck |
The terminals can of course also be used in combination. For example, an employee can clock in at the wall terminal and clock out via app.
Functions of time tracking
TIME RECORDING INTERFACES
Manual transfer of data to the tax consultant, payroll office or cost accounting is time-consuming and prone to errors. With geoCapture, data transfer is completely digital. Direct transfer of working hours and allowances is easy with the numerous interfaces to payroll programs such as DATEV, Lohn-AG, Sage, GDI or Addison. With our interfaces to BPS, DATAflor or BRZ, you receive machine hours or vehicle kilometers for post-calculation. In this way, you can also use the advantages of geoCapture time tracking in your construction software.
With the calendar sharing you have the possibility to display the absence calendar for vacation, illness etc. in your smartphone or Outlook. Your own calendars can also be integrated. The dates for school vacations and public holidays geoCapture provides immediately.
For the programmer, geoCapture offers numerous APIs to access the data via web service.